Sustainable Finance Reporting Solution
Empowering corporates, credit institutions, and asset managers to measure, disclose, and improve their sustainability. Your one-stop reporting platform for EU Taxonomy, SFDR, NFRD/CSRD, EET, and all future emerging ESG Standards.
80% cost savings
compared to in-house reporting
7x faster
reporting process
Always up to date
with latest legislation
Prepare your EU Taxonomy/SFDR report with our digital solutions Greenomy.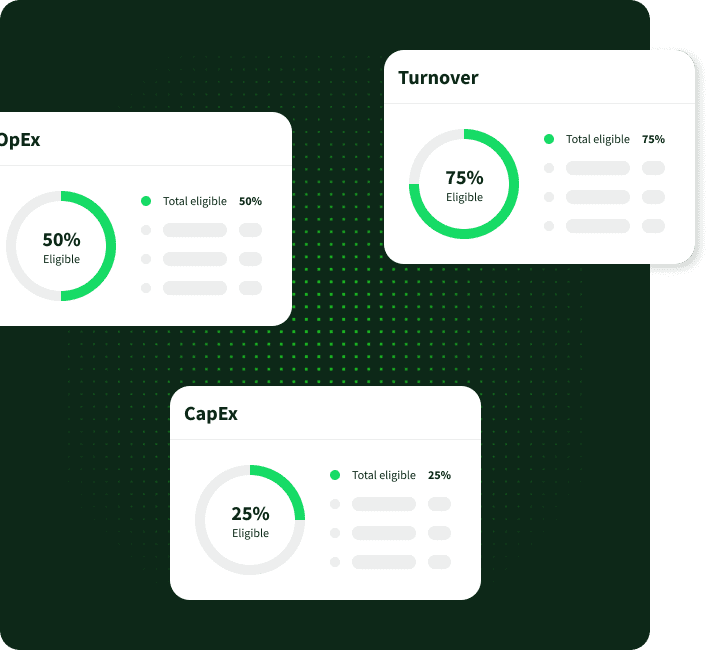 Companies
Easily perform your company's EU Taxonomy reporting, and start preparing your CSRD reporting. Calculate your EU Taxonomy alignment by Turnover, CapEx, and OpEx with verification from a qualified third party.
Investors
Use granular SFDR/EU Taxonomy aligned data directly from the companies in your portfolio to:
Automatically execute SFDR/EU Taxonomy screening of portfolios
Generate regulatory disclosure reports
Proactively manage the sustainability impact of your investments
Automatically retrieve and disseminate your EET reports
Lenders
Integrate ESG factors into the entire life of a loan, from loan application and client due diligence through periodic loan review.
Screen the EU Taxonomy alignment of each individual loan or the overall loan book to compute your GAR and BTAR as well as manage the sustainability lending impact against policy objectives.
Leverage our Sustainability Expertise
Our team of Sustainability Experts can give you insights into everything you need to know about sustainable finance regulations, including the EU Taxonomy, SFDR and CSRD, as well as global developments.
Greenomy Advisory Services
We provide tailored expert advice and guidance to help you get started with the EU Taxonomy and related disclosure regulations. Our Sustainability Experts help you to practically decipher and tackle the EU Taxonomy, understand the eligibility of your activities and set a strategic plan for reporting that integrates the Greenomy Solution and is optimised to your specific needs.
Global Outreach
Develop the local green taxonomy alignment tool and infrastructure. Use Greenomy's SaaS solution as a basis and leverage our experience with the EU Taxonomy standards and disclosure requirements to tailor the tool & infrastructure to the local green taxonomy.
Download the Greenomy Commercial Brochure
"The Greenomy solution is easy to use. The step-by-step user guide is effective in generating a complete report in line with investors' expectations and the EU Taxonomy."
Jérôme Chosson, Corporate & Project Finance - Investor Relations, Akuo
"Greenomy is the most mature solution on the market for EU Taxonomy screening"
Head of Sustainability at leading global energy company
"As a solution provider, SCHUFA supports its corporate clients in meeting regulatory requirements and makes processes efficient, digital and convenient. The SCHUFA ESG Solution powered by Greenomy makes it possible to fulfil the disclosure requirements from the EU Taxonomy Regulation and give business partners a clear overview of the sustainability of their business. This is good for business and good for the environment"
Tanja Birkholz, CEO of Schufa Holding AG
Stay Up to Date with the Latest in Sustainability
CSRD Reporting for Non-EU Companies: What You Need to Know
Spuerkeess and Greenomy collaborate in enabling Luxembourg corporates to report and improve their sustainability
The Essentials of SFDR: a Complete Guide to Accelerate Your Green Transition
Book your demo and accelerate your green transition today